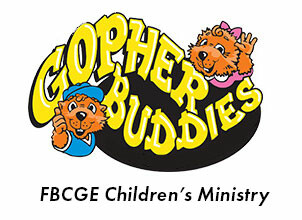 click here to register for gopher clubs
Gophers (4 & 5 year olds) and Olympians meet on Wednesday nights* at 6:45 PM for an exciting time of Bible teaching, training and learning to use God's Word in everyday life. Each clubber receives a Quiet Time Journal and backpack or Bible cover that is age appropriate to help them grow in their relationship with God. The yearly cost for the materials is $25.
*Nursery is provided for infants – 3 years old for parents that are attending service.

There are also several special nights throughout the year like School Pride Night, Fascar, and Carnivals, etc.
Ages in clubs are as follows:
4 and 5 year old- Gopher Club
1-2 Grades - Challengers
3-4 Grades - Conquerors
5-6 Grades - Champions
For additional information stop by the Welcome Center, or contact Pastor Bob at 513-752-0936.